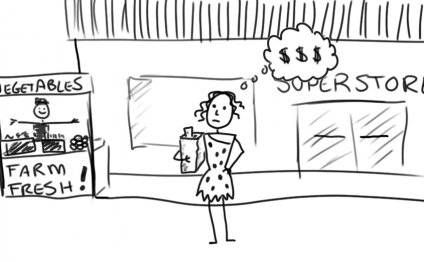 Cheap Grass Fed beef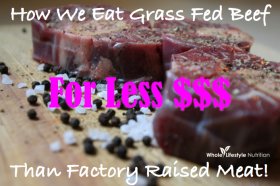 Why Eat Grass-Fed Beef?
I know it can be hard to eat grass fed meat when you are on a budget. But what if I showed you how you can easily eat grass fed beef all while saving money? Got your attention? Read on…
In her book "Deep Nutrition", Doctor Catherine Shanahan explains that if you want to eat well, but are on a tight budget, invest your money in quality meat, even over organic produce. She explains, "Organic animal products give you more bang for your buck because they benefit from bio-concentration."
Bio-concentration is referring, in simple terms, to the percent of goodness–nutrients and minerals–found in a certain ingredient.
This is why it is important to invest in organic meat and dairy products–the nutrients are highly concentrated.
Why Factory Meat is So Bad For You!
On the other hand, factory-farmed animals raised in confined habitats and fed grains they were never intended to digest have a high concentration of poor, toxic fats.
It's these high concentrations of unhealthy fats we avoid by eating only 100% grass-fed beef.
Shanahan puts it this way, "When you buy organic vegetables, you are only avoiding a little bit of poison. When you buy organic meat, especially the fatty cuts, you're avoiding a lot."
When on a tight budget, put your money where it matters most–highly concentrated animal products.
Where We Find Grass Fed Beef On A Budget
My family just moved from Milwaukee to Kansas City. With such a big move comes the equally large task of locating new sources for our whole food staples.
And so our first Saturday in the city found us at the farmer's market, excited to explore the bountiful wholesome ingredients available from the local farmers here in Missouri.
The weather is just beginning to turn cold, and so I was craving something warm and hearty; red meat would do just the trick.
I was drawn to a couple and their young son selling grass-fed beef from a freezer outside of their trailer. Their display was humble and inviting; a few chalk boards displaying the cuts of meat available that day.
I walked away happy with a pound of grass fed beef shanks, costing me only $3. You do not have to spend a lot of money to create a tasty grass fed dish.
Always check local resources first, whether it be a farmers market or finding a farmer in your area to buy direct.
Buying Quality Meat For Less!
Bottom line, here is what you need to do to save money when buying grass-fed beef.
Check your local farmers markets ~ often local farmers sell for less. It is fresh and right from the source.
Buy direct from the farmers, you save money by eliminating the middle man.
Check your local farmers listings at to find reputable farmers.
Buy in bulk. You can easily buy a quarter side of beef or even a half and store it in the freezer.
Check out quality discount stores like Costco, that carry grass-fed meat for a reasonable price.
Buy less desired cuts of meat that require longer cooking times. These cuts are usually very reasonably priced and taste amazing with longer cooking times (be sure to check out tomorrows recipe)!
Always buy cuts of meat on the bone. The nutritional value is greater and so is the flavor. These cuts of meats cost less too!
I want to discuss one more thing with you all…bones, the unsung hero in my humble opinion!
Buying Meat on The Bone Saves You $$$!
When I was a kid, and even until recently, I found eating meat on the bone just a little, well, creepy. I have since changed my mind drastically regarding this way of preparing meat.
For one, purchasing meat still on the bone is considerably less expensive! This recipe I am sharing tomorrow is a great example of that.
At only $12 for all of the ingredients, including the meat, it will easily feed four people. That's only $3 a person for a delicious, hearty, nutritious meal!
Bones Are A Rich Source of Minerals
Even greater than the money we save are the nutritional benefits the bones themselves offer. After these beef shanks simmer down for 8 hours, the marrow within the bones becomes soft and buttery.
This is when I take the back end of my wooden spoon, and gracefully poke the beautiful marrow into the stew. It completes the dish with such an elegant richness.
The marrow of the bone is also where you'll find one of the greatest concentrations of nutrients, no wonder it tastes so great!
Source: wholelifestylenutrition.com
Share this Post
Related posts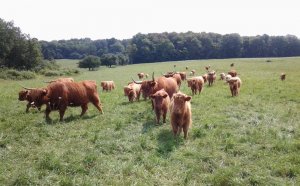 DECEMBER 08, 2023
Panorama Meat In 2002, several long-time household ranchers and rangeland conservationists in Northern Ca arrived together…
Read More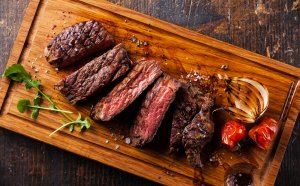 DECEMBER 08, 2023
Developed below on Rock Ranch, our meat is grass-fed, grain-finished without any steroids or hormones. Taste the real difference!…
Read More